MAC VS PC
The purpose was to explore the reasons and motivations for college students to choose Mac or PC. This has always been an interesting topic for me that I wanted to explore. I hoped that this project would reveal some interesting trends of Mac and PC users.
My Process
First, I got into a team of four students whose project topics dealt with students and technology. Together, we forumlated a Google survey using best survey design practicies in order to find out how students' perspective on technology changes over time, specifically the difference between high school and college. This section was done in a team rather than individually in order to gather more respondents and increase our survey sample. We received a total of 91 respondents and below are some of the graphics that summarize our data.

Then, I started my individual project. I first did unobtrusive field observation research in Odegaard Undergraduate Library at the University of Washington for 4 days over the span of two weeks, each for an hour. Due to the limited time of the project, I was not able to observe at different libraries on campus. I made sure to pick different days and different times of the day to account for people with different characteristics (ie. Morning person versus a night owl). I sat in the same spot each time and created a detailed map that captures the space I am in as well as how the people moved through the space and at what times. I observed for the type of their laptop (Mac or a PC), as well as their gender, laptop accessories, activities, etc. I also observed the structure and hierarchy of the space.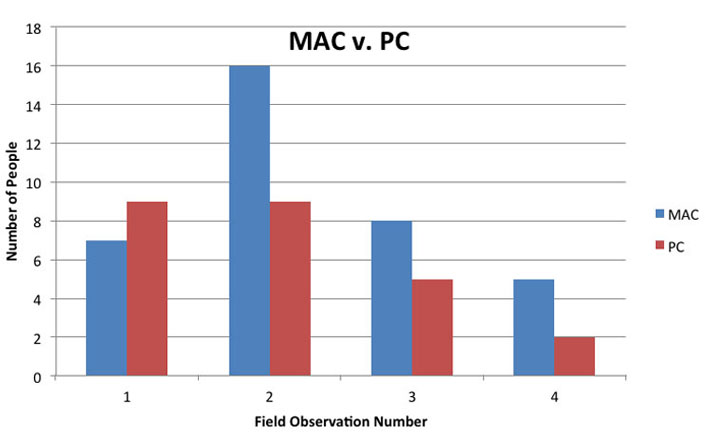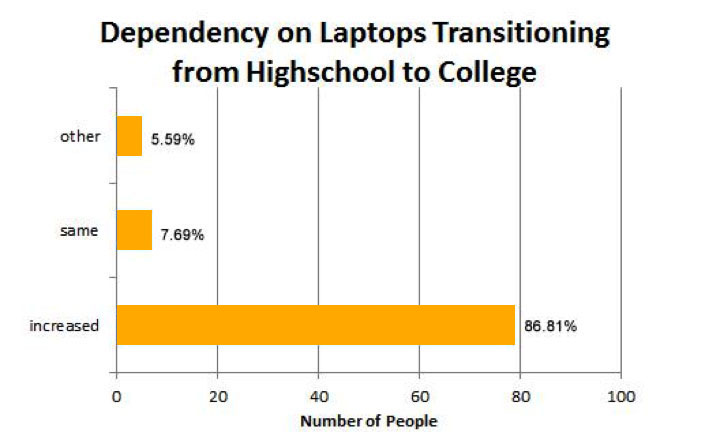 After this, I went more in depth by doing in-person, semi-structured interviews with two Mac users and two PC users. I made sure both genders were equally represented as well as a wide range of majors. I built my interview script around the themes of personal interests, perspectives on MAC and PC and the people that use them, history of technology and professional/school. I audio recorded the interviews and transcribed them later that day.
Results
Observational Research: I saw an overall trend of more Mac users than PC users. I saw that the majority of Mac users accessorize and decorate their laptops, which was not seen for PC users.
Interviews: I found that customization in laptops is a major factor for the type of laptop people purchase. Overall, people felt like it is only acceptable to put free stickers or cheap stickers on PCs and not on Macs. PC users are more inclinced to customize the interface and programming of their laptops, while Mac users are more inclined to customize the exterior appearance of their laptop.